FAQ
1. HOW TO ADD YOUR EVENT TO THE CALENDAR
Please contact the Draugas staff at the following email address:  draugokalendorius@gmail.com. We will gladly add your event to the calendar for you.
Question: My events are quite small and also are held quite often, once a week. Should I ask to add them?
Answer: Obviously, we can't clutter up the calendar with small events (local Board meetings, bowling dates, or with events that are held on a frequently recurring schedule (weekly Ping Pong, dance group rehearsals, regular Sunday Masses). Such events will not be approved for posting as there is little benefit to posting them, and they would distract from larger, episodic events that would benefit from exposure on the calendar.
2. BUYING PRINT AD SPACE IN DRAUGAS AND DRAUGAS NEWS
Still another way that you can support DRAUGAS and DRAUGAS NEWS is by buying a print ad for your event in these newspapers. To do this, go to skelbimai@draugas.org or contact the DRAUGAS publishing offices by telephoning: 1-773-585-9500.
For any problems in adding your event to the DRAUGAS and DRAUGAS NEWS calendars, please contact skelbimai@draugas.org.
3. HOW TO CHANGE FROM THE LT TO THE EN CALENDAR
At any time you can change language by clicking on the LT or US flag thumbnail. These thumbnails appear on every screen of the calendar.
4. USING THE CALENDAR AND SETTING A FAVORITE REGION
Question: I want to set up a direct link to the Draugas Calendar, but I'm interested mainly in the events taking place on the East Coast. Is there a way to set up a link that will show the East Coast events as a default?
Answer: Yes. Please copy the desired link below. It should be stressed that regardless of what calendar you start from, you always can change region by selecting from the REGION/REGIONAS menu) an you can always go back and forth between EN and LT.
Links to Regional Calendars:
—————————————
ENGLISH
EN All Events (including Canada and Europe):
Grid — List.
LITHUANIAN
LT East Coast:
Langeliai — Sąrašas
LT Midwest:
Langeliai — Sąrašas
LT Chicago Area:
Langeliai — Sąrašas
LT West Coast:
Langeliai — Sąrašas
LT all U.S.:
Langeliai — Sąrašas
LT All Events (including Canada and Europe):
Langeliai — Sąrašas
Question: How can I add an ICON to the home screen of my smartphone that goes directly to the Draugas calendar of my choice?
For smartphone users, find and bookmark the direct link of your choice, above. For smartphones we recommend the "list" mode of the calendar. Change the title of the bookmark to something simple, like "USA East" or "USA Events". This text is what will be written below the pictogram on your mobile phone.
ANDROID: Open up the table of bookmarks and hold your finger over the newly added bookmark icon until the "Add Shortcut" appears. Select this, and the Draugas Calendar icon will be added to the start screen of your mobile phone.
IPHONE (IOS 7): Choose from the links above the desired mode (Grid or List), region, and language of the Draugas Calendar that you will use most often. Open this link in your browser. At the bottom of the IPHONE screen, search for the following icon (you may need to scroll to the top of the page to make it appear):

Touch this icon and then a second icon will appear: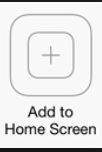 Touch this, and the Draugas Calendar pictogram (icon) will be added to the main screen of your IPHONE.
The launcher icon on your smartphone home screen should look like this:

---